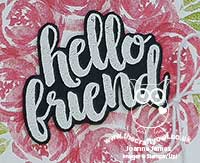 Today it's Sunday and time for this week's new challenge over at The Paper Players! It's the turn of the fabulous Jaydee to host this week and she has a fun tic-tac-toe challenge for you to work with: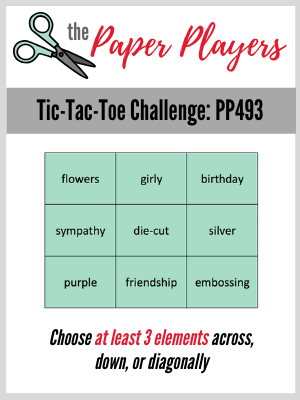 I decided to go across the top row with Flowers/Girly/Birthday and wanted to share with you a card I made using one of my most favourite stamp sets of all time, Beautiful Friendship - take a look: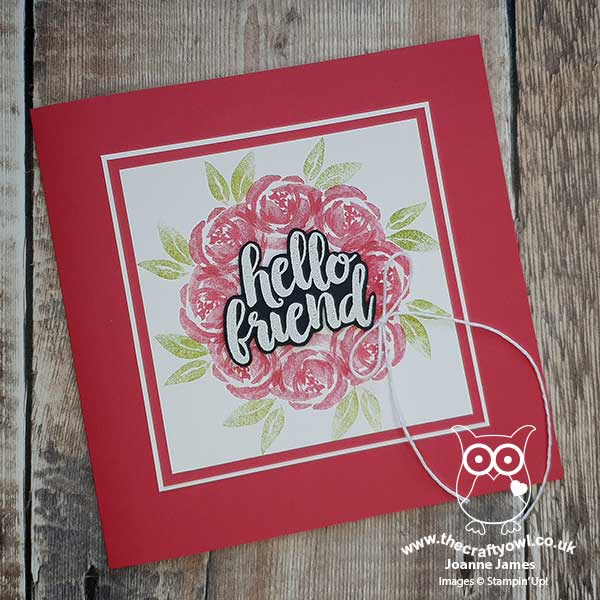 Here's the low-down on today's card:
I ADORE the 'Beautiful Friendship' stamp set and have made a ton of cards with it recently, having held an online class using this set. In between  my online classes, I have been running a whole host of online demonstration sessions either sharing different ideas using the class stamp set, revisiting previously learned techniques, or sometimes a combination of both. This card was a result of one of those sessions, where I held I refresher session showing how to use your Stamparatus to create wreaths. The single rose in the 'Beautiful Friendship' set is perfect to create a simple wreath, so armed with my favourite of the retiring in-colors, Lovely Lipstick, and ringing the changes with a 6" x 6" square card, this was what I came up with. 
Have you ever used your Stamparatus to create a floral wreath? Here's a short speeded-up clip of my demonstration (without sound) that shows how easy it is to do:
I then added a heat-embossed fussy cut sentiment from the soon-to-be-retired 'Seriously The Best' stamp set and a simple twine bow to the front of my card and added a little decoration to the inside too: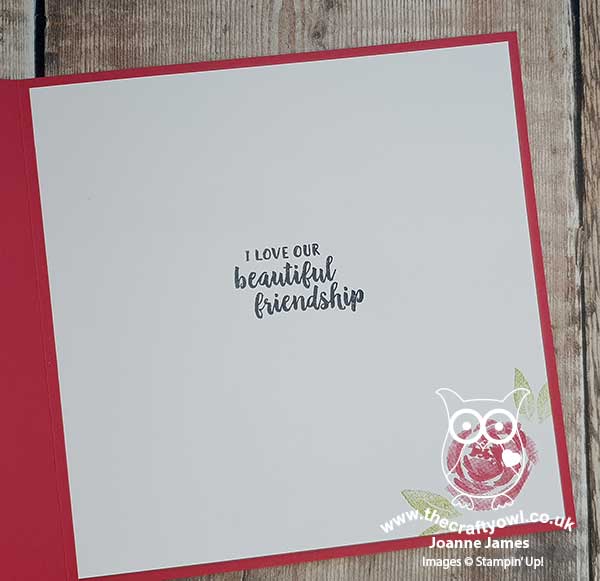 Did you find the above speeded up video clip useful? If you would like to take part in one of my online classes or attend my online demonstration sessions, do check out my class schedule on the events section of my Facebook page or on the 'Classes' tab on my website, or just drop me a line for more information.
Here is the visual summary of the key products used on today's project for you to pin for easy reference: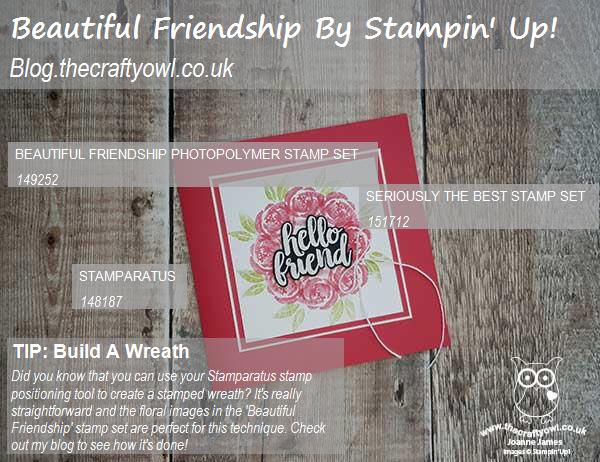 You can see all of my Product and 'How To' summaries on my 'How To - Tips and Techniques' Pinterest board in case you've missed any. 
Before you reach for your ink and papers, check out what our amazing team has created to inspire you this week:
The Paper Players Design Team
Here's a quick recap of our challenge rules:
 
1.  Create a new paper project
2.  Upload your creation to your blog with a link back to us and provide a direct link to the post featuring your challenge submission.
3.  Please link your card to no more than four challenges, TOTAL.
4.  Have FUN!
You can see all of my 'How To' summaries on my 'How To - Tips and Techniques' Pinterest board in case you've missed any. 
Enjoy your day; I'll be spending mine in and out of my 'By One Get One Free' party over on my Facebook page as I clear out my retiring stamps to make way for the new, whilst sitting in the garden enjoying the warm sunshine!nI'll be back tomorrow with another project. Until then, happy stampin'!
Stampin' Up! Supplies Used: