We tried 11 of the most popular brands, so you can finally ditch your overstuffed George Costanza wallet Slim (wallet) pickings: Kickstarter and other crowdfunding sites helped usher in an era of slimmer, fashion-forward, and often minimalist styles that have rethought the design of men's wallets.
By Omar L. Gallaga
The new wallet revolution left me behind.
While I was raising kids and gradually accumulating health insurance, credit cards, and plastic loyalty cards (Panera! H Mart! That boba tea place we love), my traditional black-leather Dad Wallet ballooned in size. Though Kickstarter and other crowdfunding sites helped usher in an era of slimmer, fashion-forward, and often minimalist styles that rethought the design of men's wallets, I was still stuck somewhere around 1995 with an ever-growing bulgy billfold.
The thick, stuffed back-pocket wallet has a name, and it's not a kind one: "The Costanza Wallet," named for George Costanza on the TV show "Seinfeld" who famously carried a receipt-coupon-napkin-stuffed billfold that eventually exploded.
It didn't take long into this assignment, tasked with looking at 11 varying styles of slim wallets, that I became convinced that I have been carrying an excessive load in my back pocket (another mistake, but we'll get to that) for far too long. The rise of slim wallets not coincidentally coincided with the rise of smartphones, which have made carrying photos of loved ones, Subway sandwich punch cards, paper business cards, and even cash mostly unnecessary. Where before we may have needed to carry 10 or 11 cards with us all the time, we may need only three or four now. That smaller cargo no longer requires a sizable form factor; the time to slim down, if you haven't already, is here. I'm ditching the Dad Wallet for good.
What's a Slim Wallet?
For the purposes of these reviews, we looked at wallets that either rethink the idea of a traditional bifold or trifold wallet into a completely new form—such as aluminum cardholders and wallets that are basically two pieces of metal held together with a strap—or that offer the traditional leather wallet experience in a slimmed-down, smaller, and lighter form.
Nearly all the wallets have some sort of RFID protection, a security feature meant to protect your tap-to-use credit cards or passport from wireless hacking. 
What we didn't review was wallets that double as smartphone cases or accessories. There's a whole market of wraparound phone carriers that include card compartments and other wallet features or ones that piggyback onto your phone, such as Apple's MagSafe wallet. I stuck to stand-alone wallets in these reviews.
Editor's Choice: Ekster Senate Cardholder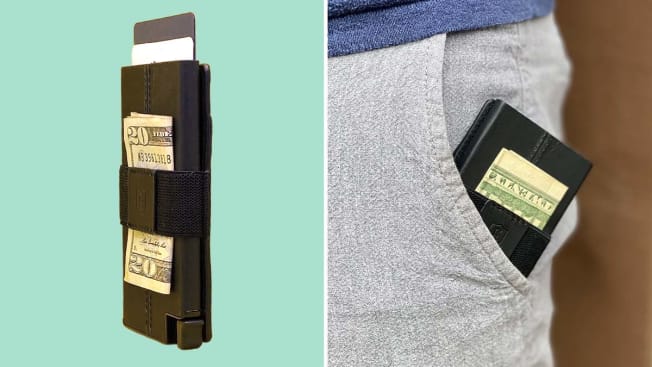 The Ekster's overall design and exquisite packaging make it a top choice.
Photos: Omar L. Gallaga
Price: From $63 
Where to buy: Amazon, Ekster
Material: Aluminum with leather and elastic strap
Specs: 2.3x4.1x0.3 inches; 2.1 oz.
Three wallets I tried have the cardholder form factor, where a lever or switch pops a set of credit cards out from the top, ideally arrayed in a fan so that you can quickly grab the one you need. Unlike the popular Secrid and the ultra-low-priced Vulkit, however, Ekster's Senate Cardholder features a design that keeps that pop-up switch level with the aluminum cardholder. It doesn't jut out of the bottom as the switch does on the Secrid and Vulkit, making them more likely to catch a loose thread in your pocket or the edge of the pocket itself. The Ekster also includes a very elegant-looking cash strap and single cardholder to hold your bills on the outside with the company's logo emblazoned on the front and keep a card on the outside, such as a Metro card for tap-to-go. Thoughtfully, the company includes an extra strap without the cardholder, to slim things down even further, inside a very beautiful box. The cardholder comes with several user-friendly heavy cardstock infocards, including a QR code for the user manual, the company's story, and a 10 percent discount code to give to a friend. The pricing puts this right between those other cardholder options, but the overall design and exquisite packaging makes it my top choice, especially at a discounted price of $63 on the company's website.
Similar, but More Expensive: Secrid Slimwallet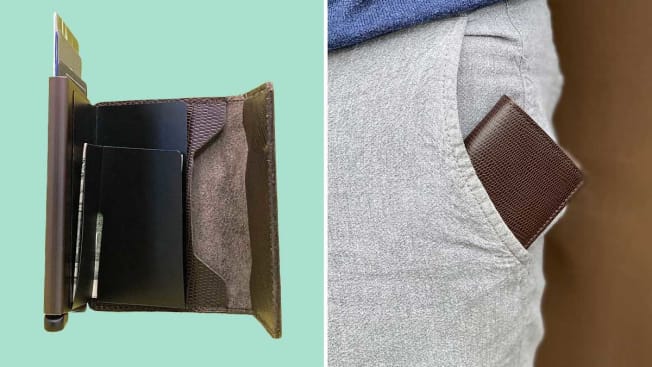 Secrid's minimalist card carriers and slender wallets have taken inspiration from the iPhone.
Photos: Omar L. Gallaga
Price: From $89.95
Material: Leather, aluminum, stainless steel, and plastic
Specs: 2.67x4x0.62 inches; 2.5 oz.
Where to buy: Secrid, Slim Wallet Junkie
Based in Holland, Secrid has since 1995 quietly been building an empire of minimalist card carriers and slender wallets that have taken inspiration from the iPhone, especially with the introduction in 2009 of the "Cardprotector" wallet. The Slimwallet I tried combines Secrid's popular Cardprotector with a leather wraparound to keep items such as dollar bills secured by a plastic holder and additional cards (about 3 to 4) on top of the 4 to 6 cards that are held in the main compartment. A plastic switch at the bottom of the wallet, which sticks out past the rest of that side's surface, pops the cards out and fans them out, making them easy to access. The Slimwallet arrives in a sleek foldup black box that contains several sample cards, a fake piece of currency to display in the wallet, and a folding paper with information about the company. The leather case feels sturdy, the Cardholder switch has a satisfying pop, and even when filled with RFID-protected cards and a Tile Slim tracker, the whole package was still much smaller and thinner than my old 2-inch wallet. And it fits nicely in my front pocket. Of all the wallets I tried, it offered the most seamless transition to a minimalist-style wallet, with the leather wraparound providing some of the feel of a more traditional styling. Great quality all around, but the price difference between the Secrid and the excellent Ekster wallet doesn't justify itself, even with the elegant leather wraparound. The $95 price has it tied for the most expensive wallet in this roundup, alongside The Ridge.
Military-Grade Minimalism: The Ridge
The Ridge feels lighter in the pocket than you'd expect, and its unique looks make it a conversation starter.
Photos: Omar L. Gallaga
Price: From $95
Material: Aluminum with elastic cash straps
Specs: 2.1x3.4x0.23 inches; 23 oz.
Where to buy: Amazon, The Ridge
The Ridge is built like a tank. It's a minimalist among minimalist wallets, with its two slaps of curved aluminum held together by a stretchy nylon strap. The Ridge comes with either a cash strap or cash clip. Ours had the strap, which features a nicely textured logo-embossed metallic piece to hold cash on the outside of the cardholder. A thumb-sized indentation allows you to push the cards out of the cardholder and fan them out to pick the one you need. That stretchy material allows for a lot of cards (up to 12), but of course the more cards you add, the thicker The Ridge will get. An included screwdriver tool and extra screws allow you to swap out the aluminum plates on both sides to a different color or material, such as carbon fiber or plated gold. The Ridge doesn't come with any extra plates. There are seven tiny screws attaching a plate on each side; removing them with the tool is easy, but getting them back on is a little more challenging and time-consuming. This style of wallet takes some time to get used to coming from a leather wallet. And like a lot of the cardholder wallets reviewed, it doesn't do well with oversized business cards or anything else larger than a standard-sized credit card; they stick out noticeably. But the tiny form has its advantages: It feels lighter in the pocket than you'd expect, and its unique looks make it a conversation starter. Packaging is utilitarian and rugged: "Instructions are complicated. We don't do complicated," an insert reads. For $95, you could probably stand to be a little bit complicated. The Ridge feels more like survival gear than men's fashion, but that may be exactly what you're looking for.
For the Apple Enthusiast: Nimalist AirTag Wallet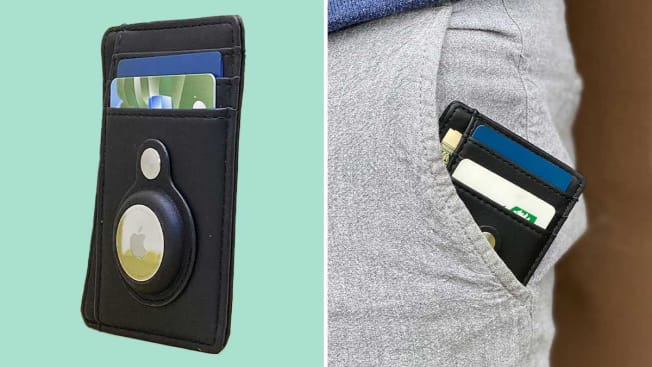 The Nimalist AirTag Wallet tries to incorporate Apple's puck-shaped, rounded-top tracking device into its design.
Photos: Omar L. Gallaga
Price: From $39.95
Material: Leather and metal
Specs: 2.1x3.3x0.2 inches; 1.1 oz. (without AirTag)
Where to buy: Nimalist
Nimalist's product is one of several newer wallets that try to incorporate Apple's puck-shaped, rounded-top tracking device, sold separately, into its design. The problem is that AirTags are inherently not a great shape to put in a wallet, leading to wallets like that look like they have a silver nipple or an elevator button sticking out of them. That's a shame because this is an otherwise great wallet, with soft leather and seven very thin pockets that hold up to 12 cards. The center compartment in particular is a marvel that can easily hold 10 folded dollar bills without adding much thickness. Keeping the Nimalist AirTag Wallet in your front or back pocket, though, makes that AirTag bulge unavoidable. AirTags for wallets would benefit from a flat profile, but you'll have to take up that argument with Apple's design team. For me, a devoted Tile user, this wallet is a nonstarter. But for the person who absolutely must carry an AirTag in their wallet instead of on a keychain, where it looks a lot better, this is probably as good a fit as you're going to get.
Best Budget Option: Vulkit VC-104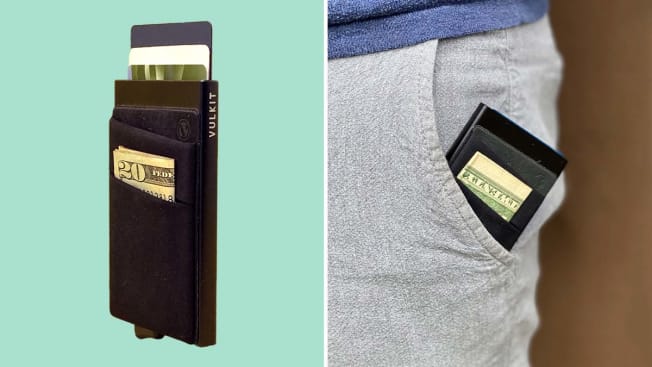 At $20, you could consider the Vulkit VC-104 a low-risk set of training wheels for your first minimalist wallet to try out and see whether you like the change.
Photos: Omar L. Gallaga
Price: From $16.99
Material: Aluminum case with elastic front pocket
Specs: 2.4x4.25x0.5 inches; 2.1 oz.
Where to buy: Amazon, Vulkit
With a pop-up cardholder design similar to the Secrid and Ekster wallets in this roundup, the Vulkit VC-104 has one big advantage going for it: price. At $20, you could consider this a low-risk set of training wheels for your first minimalist wallet to try out and see whether you like the change. Vulkit also offers a wide range of colors for the VC-104, including two-tone models. The biggest difference between this wallet and, say, the Ekster is that the Vulkit has a stretchy nylon front pocket suitable for folded up dollar bills or coins. But that slim compartment and the cardholder itself won't accommodate larger business or loyalty cards. And, as with the Secrid, the lever it uses to pop cards up juts out from the bottom of the wallet, which will drive some design purists to distraction. Still, at $20, it's cheap enough to purchase several colors to swap out as part of your fashion rotation if you end up liking the Vulkit enough to make the switch permanent.
Other Slim Wallets We Tried
Bellroy Hide & Seek Wallet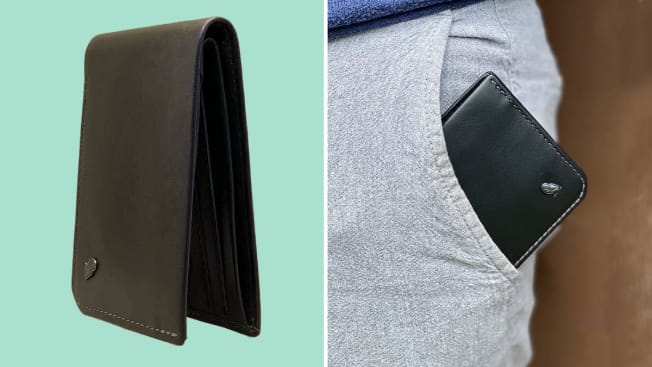 The Bellroy Hide & Seek Wallet's large dimensions in relation to the other wallets make it questionable for most front pockets, despite the wallet's overall thinness.
Photos: Omar L. Gallaga
Price: $89
Material: Leather
Specs: 3.7x4.5x0.5 inches; 1.8 oz.
Where to buy: Amazon, Bellroy, Bespoke Post
As one of the first wallets I took a look at, I was instantly impressed with the build quality and styling of the Hide & Seek, which offers more slots to put cards into than my Dad Wallet and even hidden compartments to hold more money and coins. The large box the wallet comes in is bright orange on the inside, with friendly registration information ("Day one. Let's make it count.") inside its molded tray-style container. The wallet smells like a fancy men's clothing store of yore but is modern enough to offer RFID protection. It wasn't until much later in the review process that I realized the Bellroy, with its lovely owl metal tag on the outside, might be too traditional. Its large dimensions in relation to the other wallets make it questionable for most front pockets, despite the wallet's overall thinness. Its promise to hold 12 cards on top of cash and coins seems the wrong direction for anyone seeking to carry less and lead a more streamlined life, but then Bellroy offers more minimalist options as well.
Dun Wallet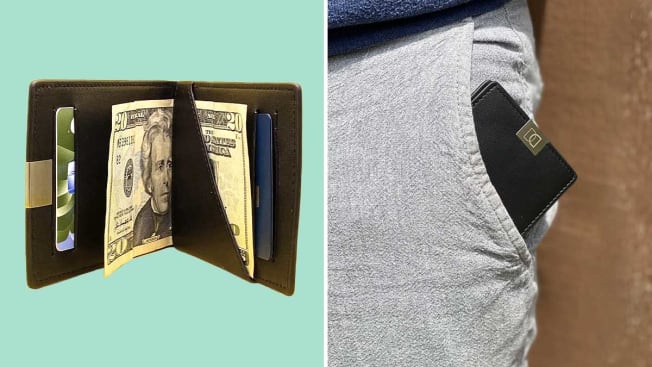 Even with 10 bills and a credit card in each slot, the Dun is stlll only a half-inch thick.
Photos: Omar L. Gallaga
Price: From $60
Material: Leather
Specs: 3x4.1x0.25 inches; 0.9 oz.
Where to buy: Amazon, Dun
If thin is what you want, the Dun Wallet, made in Europe, is about a quarter-inch thin. It still keeps a slim profile even if you slip 10 dollar bills into the sleeve in the middle of the wallet. With those bills and a credit card in each slot, the Dun is only a half-inch thick. From there, though, the wallet proves to be a bit of a problem if you want to carry more than four cards, be it IDs or credit cards. That's all the slots it has and because they're all RFID-protected, you won't be able to do any tap-to-pay or Metro entry without taking said card out of the wallet. It does look nice, with the Dun logo in a small piece of metal at the wallet's edge. But unlike every other wallet I tried, this one gave off a pungent, chemical-like odor that didn't go away after several days of use. The packaging was also a turnoff. The black wallet includes an instruction sheet on thin black paper with black text on it, nearly impossible to read without shining a light on the mini pamphlet. It comes in a thin foil envelope, also with the Dun logo. If you're ready to truly go super-minimalist, this is a nice option, but the odor alone was enough to keep me away.
Herschel Charlie RFID Card Case Wallet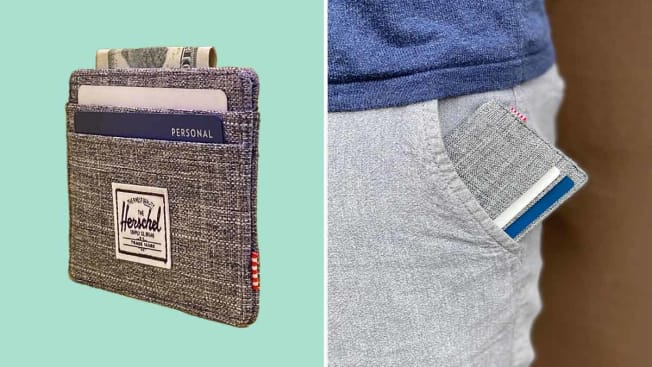 The wide array of styles available for the Herschel Charlie is impressive.
Photos: Omar L. Gallaga
Price: From $21.99
Material: Leather, polyester, or rubber
Specs: 3x4x0.25 inches; 1 oz.
Where to buy: Amazon, Herschel, Nordstrom, Walmart
Looking more like a coin purse than a wallet, Herschel's Charlie model does offer RFID protection in its four pockets, including a larger sleeve in the middle that opens to reveal a signature white-and-red striped lining, similar to a tiny tag on the side. The wallet feels stiff, but not unpleasantly so; it doesn't flop or fold easily even when it's empty. The wide array of styles available for the Charlie is impressive. The only ding on this one is that there are three tags inside the middle pocket, one with branding, one listing materials, and another with a serial number. There's no easy way to remove the tags that I could find without damaging the wallet. The tags got in the way when placing cards in this compartment and were distracting to what is otherwise a simple and very stylish design. As with the Dun, there is no pocket excluded from having RFID-shielding lining. 
Serman Brands 1.0 RFID Blocking Wallet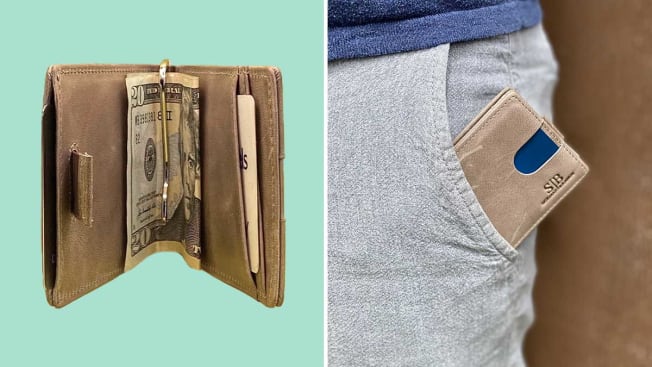 The money clip in the Serman Brands 1.0 RFID Blocking Wallet holds cash tight but adds thickness in the fold.
Photos: Omar L. Gallaga
Price: $29.99
Material: Leather with one clear-plastic ID sleeve and metal money clip
Specs: 2.85x3.9x0.5 inches; 1.7 oz.
Where to buy: Amazon, Serman Brands
Serman Brands' 1.0 RIF Blocking Wallet wins hands-down in one category: nicest packaging. In fact, the leather wallet's elaborate box makes it an easy choice as a gift. The wallet is wrapped in luxurious branded tissue paper inside a plastic bag, inside a canvas drawstring bag, inside a nice box that includes a small leather sample. The box is wrapped in another plastic bag and inside the wallet itself are a friendly Thank You note, a coupon code, and instructions on using the wallet's wind-up-tension money clip and sliding card compartment. It might make for a great presentation but doesn't seem so great if you're worried about the environment. But how's the wallet? It's a very nice-feeling accessory with a suede-like feel. After only a few days of use, however, the material got pretty scuffed up just from inserting and removing cards from an outside slot. The money clip holds cash tight but adds thickness in the fold. The only problem I experienced was that no matter how I arranged a Metro card in the outside pockets, which appear to have an access hole or a plastic sleeve, the card never worked while inside the wallet's outer pockets, presumably due to RFID protection (this worked in some of the other wallets on outside pockets). Fishing out the Metro card for use every time was an annoyance. Most clever is a pull strap that lifts up cards inserted in the compartment behind the photo ID window. Great materials and great size, but the packaging is an unboxer's dream.
Travando Austin RFID Blocking Bifold Credit Card Holder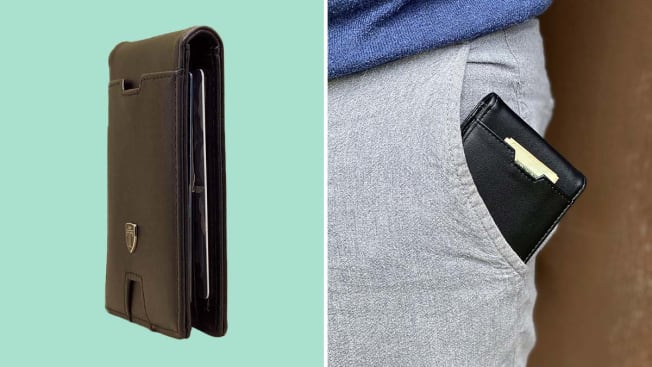 The Travando has plenty of pockets, enough to hold 11 cards.
Photos: Omar L. Gallaga
Price: $35
Material: Faux leather
Specs: 3.1x4.5x0.6 inches; 2.4 oz.
Where to buy: Amazon 
Most similar to the Serman Brands RFID-blocking wallet, this wallet features a full-sized money clip inside, but it's nonremovable. Its design also includes a window sleeve, a front sleeve that exposes part of the card held there, and I had a similar issue getting a Metro card to work while inside the wallet. The Travando has plenty of pockets, enough to hold 11 cards, and it's unusual in that it comes in faux leather, not real leather, like most of the nonmetal wallets I tried. It loses out just slightly to the similarly designed Serman Brands wallet, if only because its packaging isn't quite as nice even though the wallet is pricier. Amazon, however, has been offering a discount on the wallet, bringing the price down slightly, which may make it a little more competitive for someone seeking a traditional-looking RFID-blocking wallet.
Trayvax Armored Summit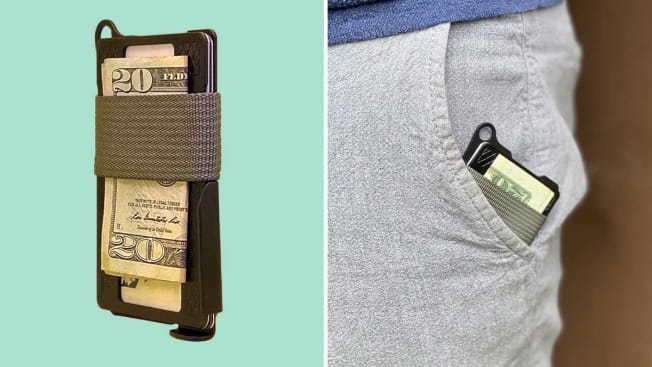 The Trayvax Armored Summit was the only wallet in the roundup with a hole suitable for attaching to a keychain or carabiner.
Photos: Omar L. Gallaga
Price: $34.99
Material: Steel with nylon webbing and melonite finish
Specs: 2.35x3.75x0.375 inches; 2.6 oz.
Where to buy: Amazon, Trayvax
Trayvax's offering, the Armored Summit, was the only wallet I tried, except perhaps the Dun Wallet, that I flat out didn't like and could never see myself adopting permanently. It consists of two pieces of metal held together by a webbed strap that you can adjust, but not very easily. The pieces of metal have holes in them, presumably to reduce the weight and to make cards more accessible. But unlike The Ridge, which has a clever V-shape it stretches into for access, the Armored Summit was frustratingly difficult to get exactly right in terms of how much tension is required to keep cards firmly inside. If you have to switch the number of cards you're holding often, you'll be making adjustments constantly. On the plus side, it was the only wallet in the roundup with a hole suitable for attaching to a keychain or carabiner. But that didn't change my opinion that the Armored Summit is an ugly design that's not nearly as easy or as pleasurable to adjust to as practically every other slim wallet I tried.
How I Evaluated These Slim Wallets
In switching from my gigantic, nearly 2-inch-thick bifold wallet to these slimmer models, I first ditched about half the contents of my old wallet. That meant no longer carrying credit cards for stores like Old Navy and JCPenney that I use infrequently, the multiple health insurance cards for my daughters and I that could be carried on my phone as photos, and various mini loyalty cards for H Mart, Best Buy, and other retailers.
For the purposes of trying out the wallets, I ended up loading each one with:
• $40 in cash (two $20 bills)
• Driver's license
• My main credit card
• My bank debit card
• My local library card
• A Tile Slim location tracker, which I carried in the wallets in which it would fit, the Trayvax and Ridge wallets being the exclusions.
• While I was traveling to Washington, D.C., I also carried a hotel room key card and a Metro subway card, which is RFID-enabled to tap and go when entering and exiting stations.
For each wallet, I spent a day or two running errands, driving, and shopping, both at stores and online at my desk, where I might have to fish out a credit card to make a purchase.
I spent five days on a birthday trip to Washington, D.C., where I was able to take the wallets with me while scootering, traveling by Metro and on ride-hailing services, and doing lots of walking.
In all cases, I kept the wallets in my front left pocket, a big switch for me, a longtime back-pocket wallet carrier. In my left pocket I sometimes also carry an AirPods case and a face mask. In my right pocket, I carry my iPhone.
Experts I spoke to about wallets all agreed that the era of rear-pocket wallets should be over. They not only have been linked to potential health problems but also are simply not necessary in the era of slimmer, tidier wallets. "Just for the sake of your spine, why risk it?" says David Bruce, the United Kingdom-based owner of Slim Wallet Junkie, an online wallet retailer. "You might also break your cards. It can fall in the toilet. There's all kinds of practical problems. Front pocket is the way to go." On top of all that, Bruce says a front-pocket wallet is harder to steal.
Ronald Smith, a Baltimore-based personal custom stylist for The QG, says he still gets customers with gigantic bifolds stuffed with receipts and bills. For tailored clothing or anything you don't want to bulge, a smaller wallet is essential. If you're wearing a suit, the jacket pocket is the ideal place to hold a wallet, but it shouldn't be too thick there, either.
"Go with something smaller," Smith says. "You carry around a device that pretty much has your life on it. What else do you need a wallet for? I carry one form of ID, two cards, AAA, and my insurance card. And that's it."
Smith also suggests being careful about wallets made of metal or that have switches that stick out. He says harder materials or jutting parts could more quickly wear out the pockets in suits and pants where they're carried.
Bruce says that the Kickstarter boom in wallets created an explosion of interest in devices; for designers, it presented an opportunity to get into the crowdfunding space. "A wallet is a relatively simple piece of engineering. Anyone who wanted to dip their toe in the water on Kickstarter found it a good place to start," he says.
As far as what to look for, Bruce says that customers began getting very interested in RFID protection about five years ago and that some of the better-designed wallets offer card protection, but also a slot or pocket that doesn't have it. "For the underground here or the Metro, you want to be able to do contactless on one card, and you want the rest of your cards protected."
In my tryout of the wallets, not all of the wallets were able to offer that flexibility.
Bruce says that AirTag wallets are getting popular, as are wallets that integrate carrying a phone with a battery charger that serves as a mobile case, but "they're either too big or not good enough to charge your phone, and there's no middle ground."
The majority of Bruce's sales aren't necessarily wallets with lots of tech-forward bells and whistles. "Most people just want something slim and functional," he says. "People on Kickstarter keep trying to reinvent the wallet. It usually comes back to a nice-looking wallet that holds their cards."
Do Men Still Need to Carry a Wallet?
The question comes up of whether our inevitable march toward digital-everything might someday spell the death of the wallet market entirely.
Until all photo IDs and credit cards are on your phone and society is completely cashless, that's unlikely to happen. But the need for larger wallets with more than 8 or 9 slots might be drawing to a close for most people.
Although most wallets are marketed only to men, Bruce says he's seeing wallet retailers offer more gender-neutral products, and although it sometimes is just a color offering meant to appeal to women, that might be one area the wallet market could expand. "It's certainly becoming less gender-defined than it was 10, 20 years ago," he says.
A good wallet, Bruce says, should last about five or six years, at least. Some manufacturers, he said, offer a two- or three-year warranty. Bellroy and Secrid, for instance, have a three-year and two-year warranty on wallets, respectively. The Trayvax I tried has a 65-year warranty, and The Ridge is covered for its lifetime.
It's hard to imagine what people will be carrying in their pockets in the 22nd century, but for now, Smith says that wallets are unlikely to go away as long as we still have cards and cash to carry and holidays to shop for.
"I think there's still a place for a gentleman to carry something in his pocket like a wallet," Smith says. "It's a Father's Day gift that can't go out of style."
10 Bills + Cards and Tracker Bulk Challenge
Ekster: 10 bills, four credit cards, and a Tile tracker all fit comfortably with room for another card or two with the bills held on the outside pocket or cash strap. Eskter recommends seven cards to fit in the Senate model; I'd only recommend more if you're carrying less cash. 
Dun: Keeps a 0.5-inch slim profile even with the bills and a credit card in each of four slots. You can double up cards in each slot for up to eight or sub in a Tile tracker without adding much additional thickness.
Nimalist: Dollar bills, credit cards, and a Tile tracker add enough thickness to the AirTag wallet that it winds up about an inch thick, with enough bulge in the middle to send it back to Dad Wallet territory. Nimalist says you can fit 12 cards in this thing, but you probably won't want to in addition to the AirTag.
Travando: Bills, cards, and Tile tracker add some serious thickness to this one, pushing it over an inch, and making the metal Travando brand appear to stick out more than necessary. It can carry 10 cards plus cash, but not without real bulk issues. Blame the metal money clip inside.
Secrid: Cards are no problem here. You can squeeze five or six in the aluminum compartment and two or three more, or a Tile tracker, into the leather sleeves. But the cash holder has a real problem with more than a few bills, requiring that they be folded twice. Ten bills in that configuration double the thickness of the wallet to a full inch.
Bellroy: The traditional design means traditional bulk: Stuff 10 bills and six cards into this, and it balloons to an inch and a half thick. It definitely has room for lots of cash in its main and secret compartments, but a Tile tracker and more than three or four credit cards really thicken things up. Bellroy says you can put more than 12 cards into the Hide & Seek. I wouldn't recommend that.
Serman Brands: Swallowed up 10 bills, a Tile tracker, and five cards like it was nothing, thickening only to about a quarter-inch. You could squeeze 8 to 9 cards total, but its design does a very good job staying thin under pressure.
Vulkit: Cash folded into the Vulkit's nylon pocket only adds about half-inch of bulk, and the aluminum case holds five cards comfortably. Beyond that, say, sticking the Tile in the second outside pocket or opting for 2 to 3 more standard-sized cards instead, make it look thicker than it should. 
Herschel: A tight squeeze, but the Herschel can accommodate 10 bills in its middle pocket, a Tile tracker, and five cards in its other pockets, but that's about the limit. Without the Tile tracker, it's more like 7 to 8 cards.
Ridge: Remarkably, five cards, a Tile tracker, and 10 bills brought The Ridge's total thickness to only ¾ of an inch. You could expand it more for what Ridge says is up to 12 cards. The clever money clip keeps the cash contained and compact. 
Trayvax: Like The Ridge, it handles cards, Tile tracker, and cash with slimness in mind, bulking up to less than an inch even with five cards, the Tile tracker, and 10 bills. You could squeeze about eight cards into it by not including the Tile and carrying fewer bills.
Consumer Reports is an independent, nonprofit organization that works side by side with consumers to create a fairer, safer, and healthier world. CR does not endorse products or services, and does not accept advertising. Copyright © 2022, Consumer Reports, Inc.