This English toffee, made with almonds and dark chocolate, is a classic old-fashioned Christmas candy and is surprisingly easy to make. A lovely gift. You can also swap in milk chocolate and peanuts to make the best possible American version.
Adapted from Meg Ray | Miette | Chronicle, 2011
This classic English toffee recipe nicely demonstrates that candymaking doesnt need to be a chore. And it turns out inexpressibly better than anything store-bought. You just need to keep a few simple things to keep in mind to ensure spectacularness. First, invest in a thermometer if you dont already have one and keep a careful watch on your candy as it can go from not quite ready to hopelessly gone in minutes..Youll also want to ensure your baking sheet is large enough to spread your toffee thin to ensure itll turn shatteringly crisp rather than remain heartbreakingly chewy. And one thing you cant really do much about, other than work around it, is the weather. Best not to attempt creating candy on an especially warm, muggy day, or youll be back to toffee thats stubbornly chewy rather than mindbendingly crisp.Renee Schettler Rossi
English Toffee
Quick Glance
45 M
2 H

Makes about 3 1/2 pounds
Special Equipment: Candy thermometer, offset spatula, Silpat
Print Recipe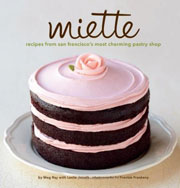 Want it? Click it.
Ingredients
Email Grocery List
Send Grocery List
Email the grocery list for this recipe to:
Sign me up for your or newsletter, too!
2 cups raw whole almonds (4 cups if coating both sides of the toffee with nuts)

2 sticks unsalted butter (8 oz)

1 cup granulated sugar

1 tablespoon vanilla extract

1 1/2 teaspoons salt

1/3 cup cold water

1 1/2 pounds 70-percent cacao chocolate (3 pounds if coating both sides)
Directions
1. Preheat the oven to 350F (177C). Line a baking sheet with sides, such as a jelly-roll pan, with a silicone baking mat.

2. Toast the almonds on a separate baking sheet until lightly browned and aromatic, 8 to 10 minutes. Transfer to a cutting board to cool. Roughly chop the almonds. If desired, dump them into a strainer and shake to remove any teensy pieces of almond skins for a more professional-looking final appearance.

3. In a medium saucepan, combine the butter, sugar, vanilla, salt, and water over low to medium-low heat. Clip a candy thermometer to the side of the pan. Cook, whisking, until the butter has melted and the mixture is emulsified. Increase the heat to medium-high and cook, whisking constantly at a consistent speed, until the mixture reaches 300F (149C) on a candy thermometer, 15 to 20 minutes.

4. Immediately and carefully pour the hot toffee onto the prepared baking sheet. Using an offset spatula, quickly spread the toffee into a thin, even layer over the entire baking sheet. (Dont dally as youre doing this.) Let the toffee cool for at least 45 minutes.

5. Meanwhile, place the chocolate in a heatproof bowl placed over but not touching a pot of simmering water and gently stir with a rubber spatula until the chocolate has completely melted, looks smooth, and is no more than 110F (43C).

6. If necessary, gently wipe or blot any excess oil from the top of the cooled toffee with a paper towel. Spread the top of the toffee with the warm chocolate and immediately sprinkle with the nuts. Let set at room temperature until hardened, 20 to 30 minutes.

7. If desired, once the chocolate has set, invert the toffee, remove the baking mat, and smother the second side of the toffee with additional chocolate and nuts.

8. Break the cooled toffee into pieces. The toffee is best when consumed that same day or stored in an airtight container at room temperature for no more than 3 days, so make haste in packaging and gifting it. Originally published December 5, 2014.
T-Shirt Variation
American Toffee
Substitute milk chocolate and lightly salted Spanish peanuts for the dark chocolate and roasted almonds.