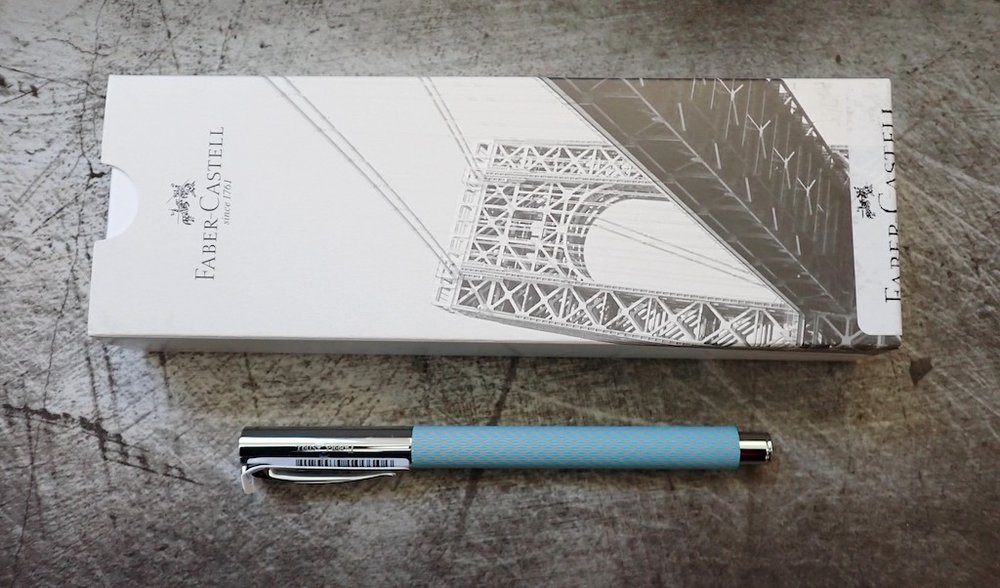 (Sarah Read is an author, editor, yarn artist, and pen/paper/ink addict. You can find more about her at her website and on Twitter. And check out her latest book, Out of Water, now available where books are sold!)
I've had my eye on the Faber-Castell Design Ambition for ages, watching lovely limited editions come and go, but never at quite the right time for me to snag one. So I was thrilled to finally get the chance to play with one in this lovely shade of blue. I know, from the Neo and the Loom, that I like Faber-Castell nibs, though the Loom body didn't work well for me. I loved the Neo, but wanted more fun colors. This model seems to deliver on all my wishes.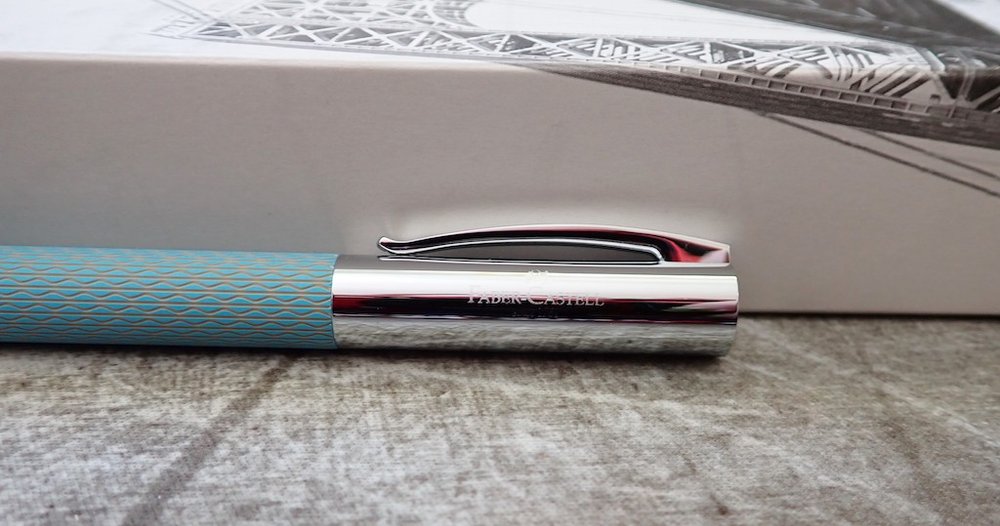 The cap and finials are a chrome finished metal, and the body is wrapped in a resin sleeve with the OpArt Sky Blue guilloche pattern. While from a distance it looks like a pale blue, up close you can see that the grooves are an almost lavender-grey color, or maybe a putty color, depending on the light. In any case, it's very visually interesting and the grooved texture makes it easy to grip.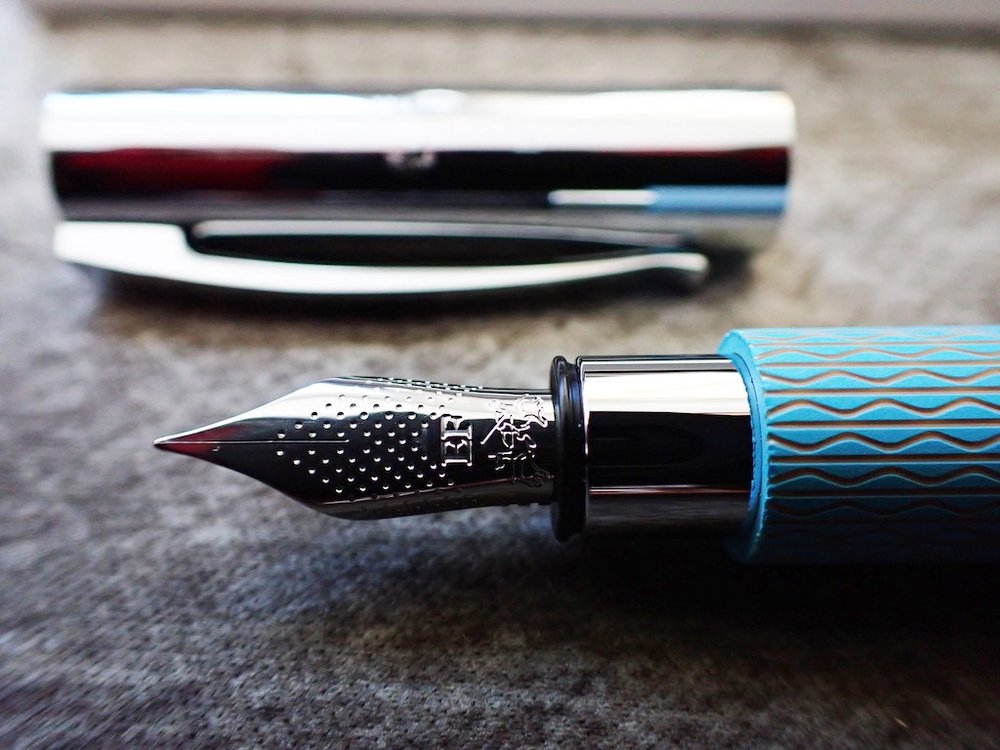 That grippiness is an important feature, as the pen lacks a defined grip section. There's debate, in the pen world, about whether or not one is supposed to try and hold it by the wee metal nub that holds the nib housing. And you could, but I doubt it would be very comfortable. It's very small, slick, and would force your fingers onto the fairly sharp step in the resin. Holding the pen further back on the resin body works much better for me, and the texture still gives me good control of the nib.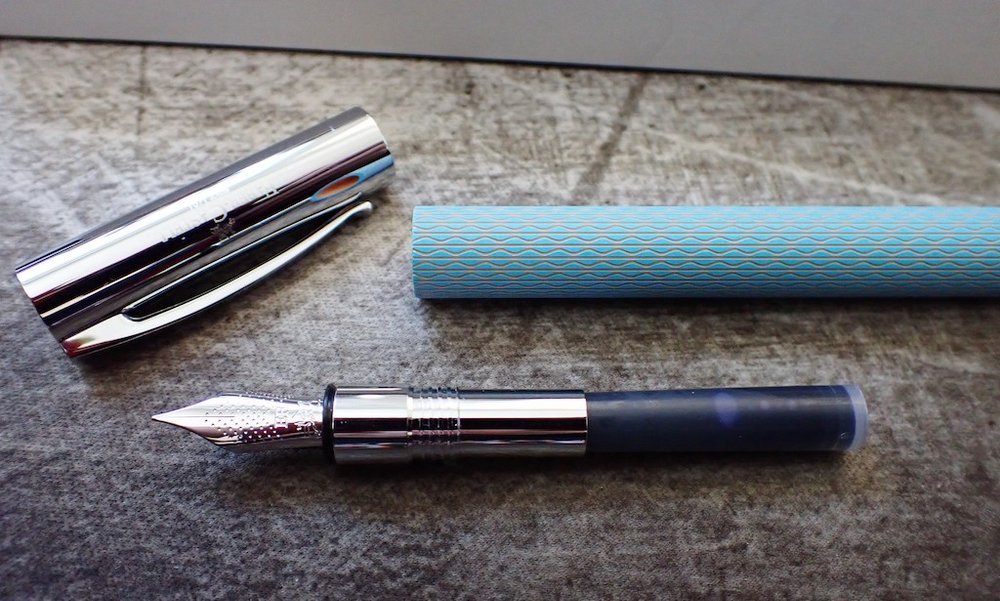 The cap snaps to close and has a nicely springy clip that pivots into the cap itself, so it clips firmly and easily onto pockets or papers. The cap is etched with a faint "Faber-Castell" that doesn't intrude on the sleek design. The cap posts, but only loosely on the shallow metal end and doesn't click in place, so it may wobble or topple when writing. There is no decoration on the finials. It is all simple elegance.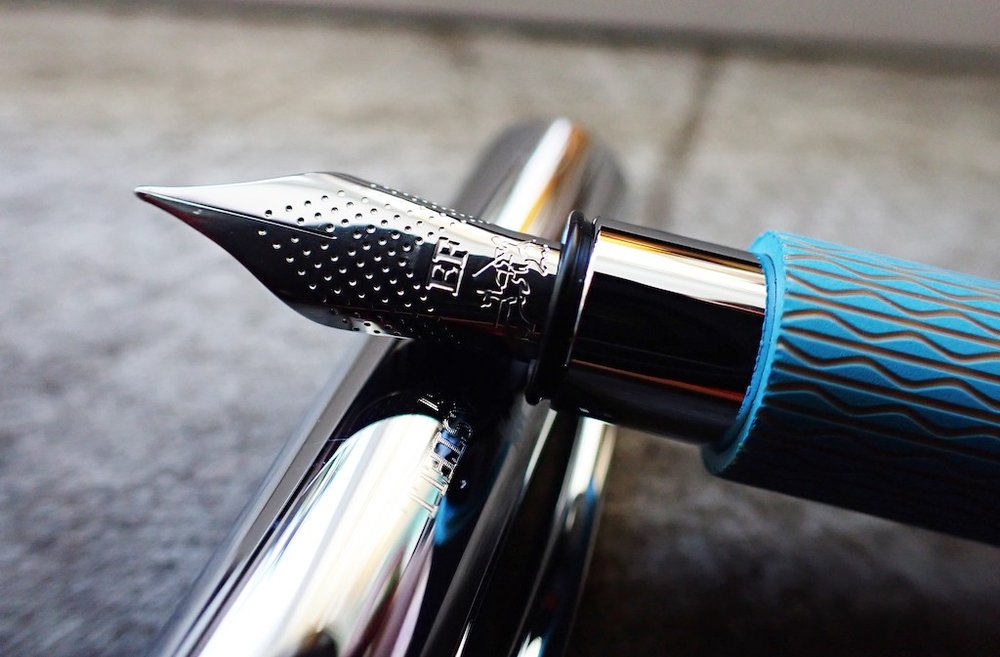 As I have experienced with all Faber-Castell pens, the steel nib is great. This one is an extra fine, and it writes with the perfect balance of fineness and wetness. It flows enough for me to enjoy the ink, but is fine enough to write in small grids or fill pages with copious class notes. It's been the pen I reach for first for school these past few weeks.
In short, this pen was worth the wait, and at $100, it's also worth the price. As pen prices are creeping up around the globe, this price starts to look better and better. It's a good quality pen for a price that's low compared to its peers. I wouldn't recommend it to folks who must post, or who hold their pens right at the nib base, but to all else, I say it's a gem.
(JetPens provided this product at no charge to The Pen Addict for review purposes.)
---
Enjoy reading The Pen Addict? Then consider becoming a member to receive additional weekly content, giveaways, and discounts in The Pen Addict shop. Plus, you support me and the site directly, for which I am very grateful.
Membership starts at just $5/month, with a discounted annual option available. To find out more about membership click here and join us!