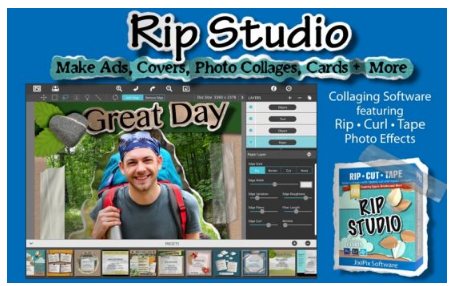 JixiPix Rip Studio – It offers super realistic ripped and cut borders, tape, creased and folded images, and curled edges with full 3D shadowing. All with an incredible interface that seamlessly handles layers while maintaining an easy-to-use workflow.
Rip Studio is a PRO product featuring layers, multiple selection, 3D light for casting realistic shadows, and the best effects designed for Artists, Photographers and other Professionals who require high-resolution on output.
Rip Studio's edges are fully adjustable and can be customized using Edge Width, Fiber Amount, Fiber Length and Edge Roughness. Once a paper is torn use the image tool to move and adjust photos inside or completely replace the image if needed—this great feature is perfect for creating templates for other projects.
Features
• Rip Effect with control over rip width, roughness and fiber length
• Rip Tool for adding and removing areas to torn and cut paper. Also works on shapes and tape
• Rip Styles to change the look of an edge on-the-fly without redrawing the area
• A cool masking tape, duct tape, cloth tape and transparent Tape Effect. When tape is placed on the edge of the image it auto creases! This can't be done with clip art.
• Masking tape, duct tape and transparent tape with adjustable size, color and surface texture
• Move Image Tool for resizing and moving the image inside a ripped or cut area
• Text Editor for creating ripped, cut, bordered or regular-style letters and sentences
• Smart Layers for composing layouts, collages and easy reordering of objects
• Multiple Selection for moving paper, tape and other objects together
• 36 shapes will auto-cut images into stars, circles, flowers and more'
• 102 high resolution papers
• 18 surface textures
• 62 objects like staples, gems, stickpins and more—with the ability to add your own! All objects placed will create an impression below
• Robust 3D lighting casts realistic shadows—supports multiple light sources
• Crease Effect for adding crinkles and creases by simply drawing across the area
• Support for fonts installed on your computer system
• Save Project externally will save projects for future editing and sharing with other artists!
• Save Preset for saving templates inside the app—great for creating custom templates for future use
• Save support for PNG and TIF to preserve transparency behind objects
• Support for high resolution images and output
• Pro's who use the Photoshop and Lightroom Plugin can flag images for batch processing—this features allows photos to be placed right where they want them
What's New
* Click here
Title Release: JixiPix.Rip.Studio.1.1.10
Developer: Home Page
License: ShareWare
OS: Windows
Download:

JixiPix Rip Studio 1.1.10 (221 MB)
The post JixiPix Rip Studio 1.1.10 [Latest] appeared first on S0ft4PC.