We are going to jump ahead, putting the cart ahead of the horse so to speak and discuss the vehicle cockpit which can include many advanced components. If you are just getting started, realize that there are a lot of things that go into the equipment interfaces for things like a light bar, compressors, comms, etc. And before you even do any of those things, you should be familiar with your stock vehicle, and look at better tires, traction boards, and a way to inflate/deflate tires on the trail.
Good day everyone and welcome to a new installment of AllOutdoor's Off-Road and Overlanding series brought to you by onX Offroad--mapping software for all your adventures.
Roof rack, rooftop tent, or command center for your Overlanding rig?
Overlanding is one of those rabbit holes that can soak up a lot of time and money very quickly. Unless you are flush with a ton of cash, you will need to pick and choose what items you add and in what order. The ability to carry gear outside of your cab, or a tent you can quickly set up and camp with might take precedence over all of the latest electronic gizmos.
One of the first questions you need to ask when getting into "Overlanding" is what are you planning to do. If it is to look cooler than the other kids in the Lowes parking lot, then go forth and add "all-the-things". If it is to get away and camp on a moment's notice, or to have the ability to pull over and sleep nearly anywhere on long trips, then maybe you should first focus on getting a rooftop tent that can be quickly set up and stowed.
My build
When I built out my truck, I had a set of fairly specific use cases. At the time, I was traveling all over the country teaching wilderness medicine and doing so in some pretty remote areas. It could take me a few days to drive to and from a course, and hotel bills add up.
Many of my ending scenarios (for the courses) required me to drive in on some backcountry trails and also get back out, and the cost to get a recovery service would be prohibitive.
I also hunt and can be in some pretty remote places.
Because of the above, I had a number of components installed that would need controls that I could manage internally (lights, lockers, battery status, onboard air, etc). I also needed better navigation than what a stock 2017 Tacoma could provide, so I need the ability to mount a tablet.
A good setup or a great setup?
Sometimes you have to be willing to accept that you don't need EVERYTHING or all the latest and greatest toys. Honestly, most vehicles are capable and amazing just as they come from the factory. It is worthwhile to get out and explore a bit (maybe go camping a couple of times) and see what you like and don't like before spending tons of money.
In fact, I've recently been simplifying my setup and trying to declutter a bit. I've come to prize space, storage, and organization over bright lighting and other toys. I also like having everything already packed in the truck so I can hit the dirt at a moment's notice.
A well-organized and accessible vehicle cockpit will allow you to more comfortably hit the trail since you will have most of what you need in your rig. All I need to add is food and water–navigation, communications, and recovery stuff is built-in, hooked up, and ready to go.
Accessing things from the driver's seat
The most important aspect of operating vehicles is doing it safely. You are maneuvering a multi-thousand-pound hunk of metal moving at speed, and if you are distracted, terrible things can and will happen.  All of the things you need to operate should be in your vehicle cockpit within easy reach.  If you have to take your eyes off the road beyond a quick scan, you should rethink the placement.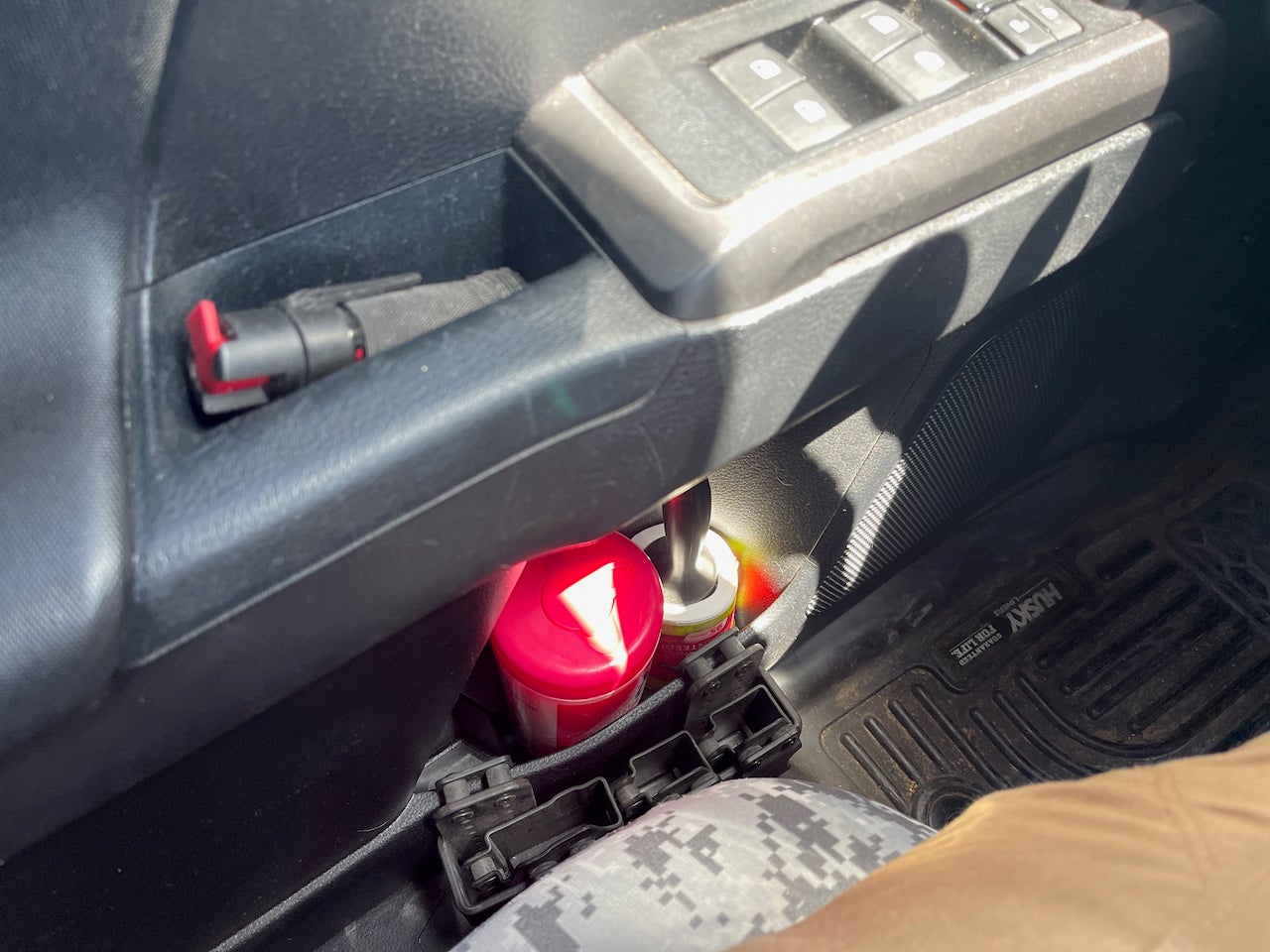 If you already have a hard time focusing on the road and safe operation, either have a second rider that can manage the data and devices or plan to take breaks so you can play with your toys.  The driver's first priority is driving–everything else is secondary.
My vehicle cockpit setup for Overlanding
One of my considerations is making sure that everything can also be accessed by my passenger. All of the electronics are on RAM mounts that allow for reorienting screens, etc.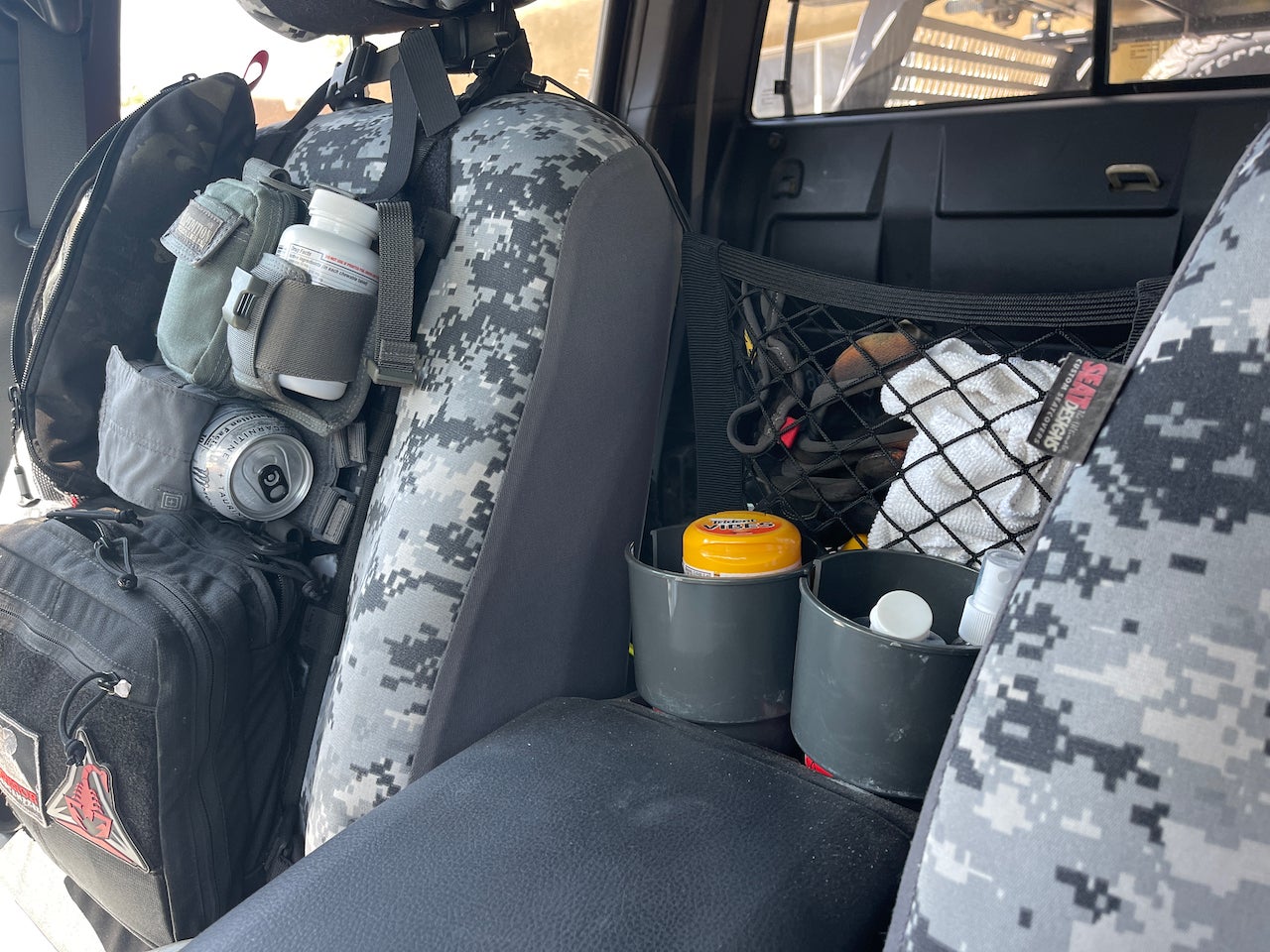 I am also able to quickly reconfigure how things are set up to better accommodate having someone in the second seat. As an example, when I am solo, I have a 5.11 Vehicle Ready Hexgrid Seat on my passenger seat. On this, I carry kleenex, caffeine pills, and the all-important "road" Monster. It also has plenty of storage capacity when you add pouches. When I have a passenger, I can quickly disconnect it and put it in the back. This has been an organization game-changer when on long travel runs.
Switches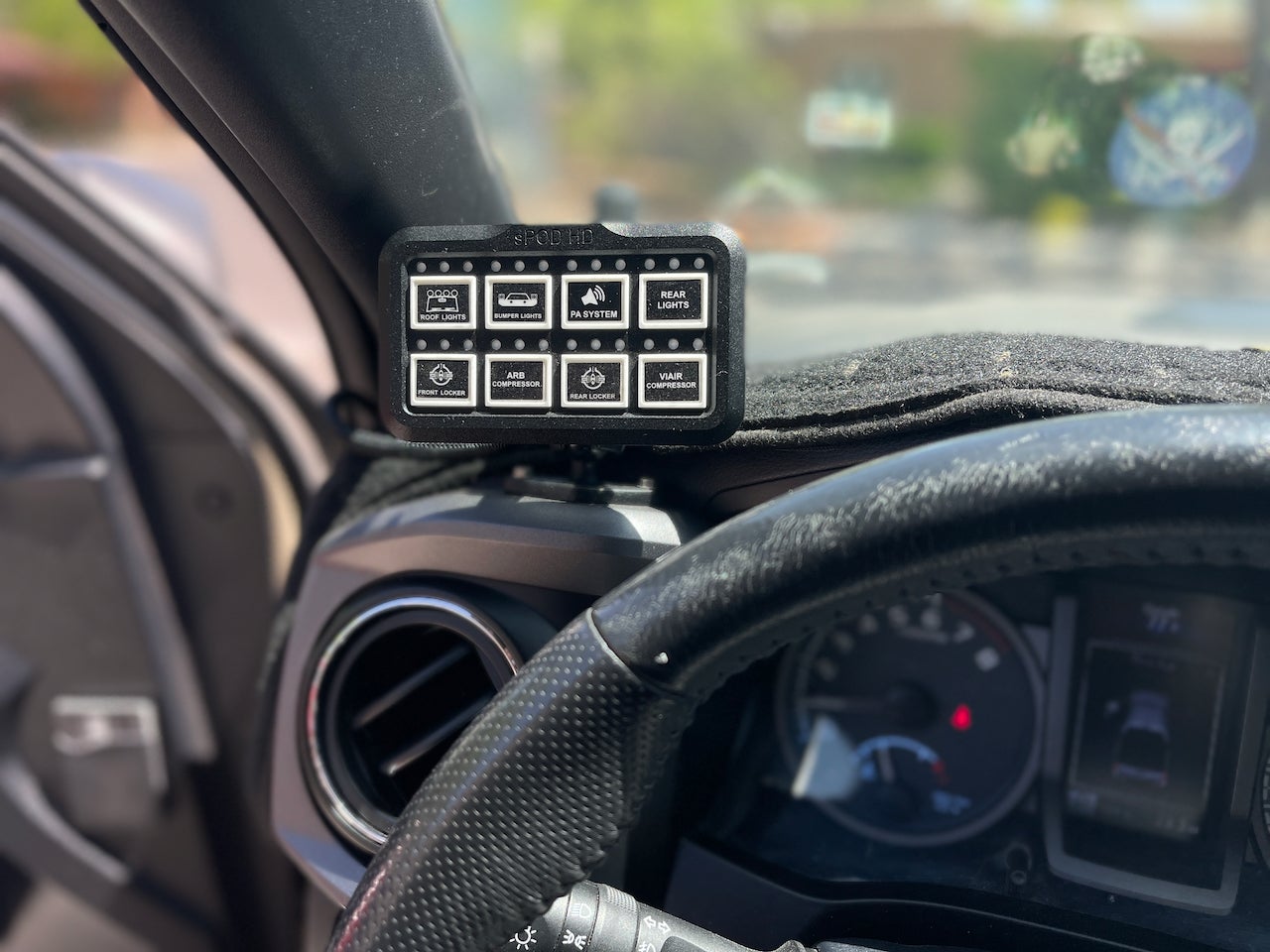 Above my steering wheel to the left is the switch panel for my SPOD. This allows me to control up to eight powered components, generally without leaving my steering wheel–though I've found it to be not as intuitive. I may install normal switches when I clean up my wiring one day soon. The SPOD controls the lights on my light bar (and rear lights), my lockers, and air compressors. It also has a switch for my cell booster (which is an awesome addition if you can swing it).
Visor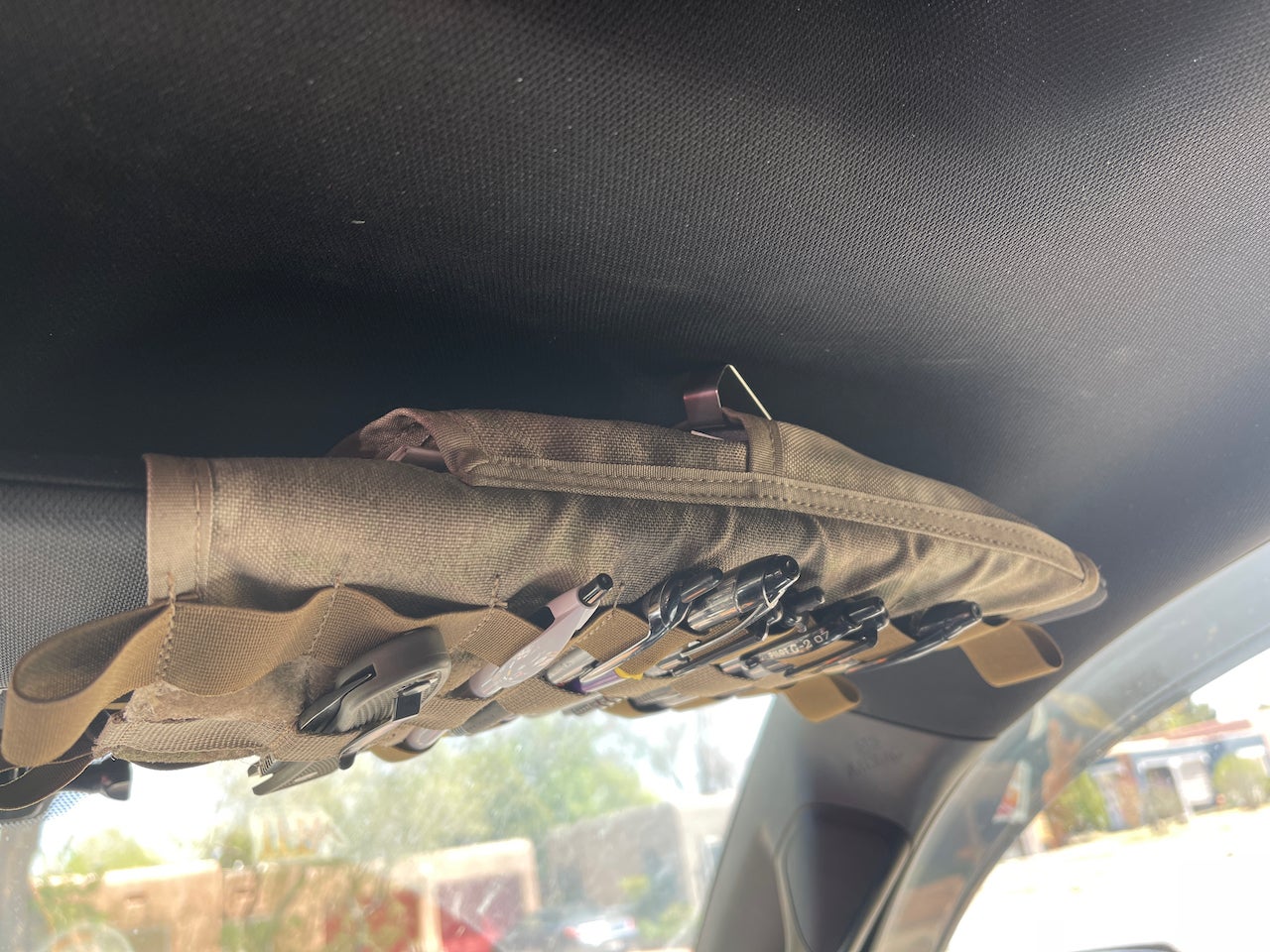 Over my visor, I have a Zulu Nylon Gear Visor Panel. It gives me a place to stash information like registration, insurance, etc. I also store a gate opener, a notepad, and some tools there. The PALS webbing is a convenient place to stash pens, a box opener, and a window breaker.
Footwell
My seat covers have a pouch that conveniently holds a pistol and magazines. Or a wallet. Yeah, a wallet.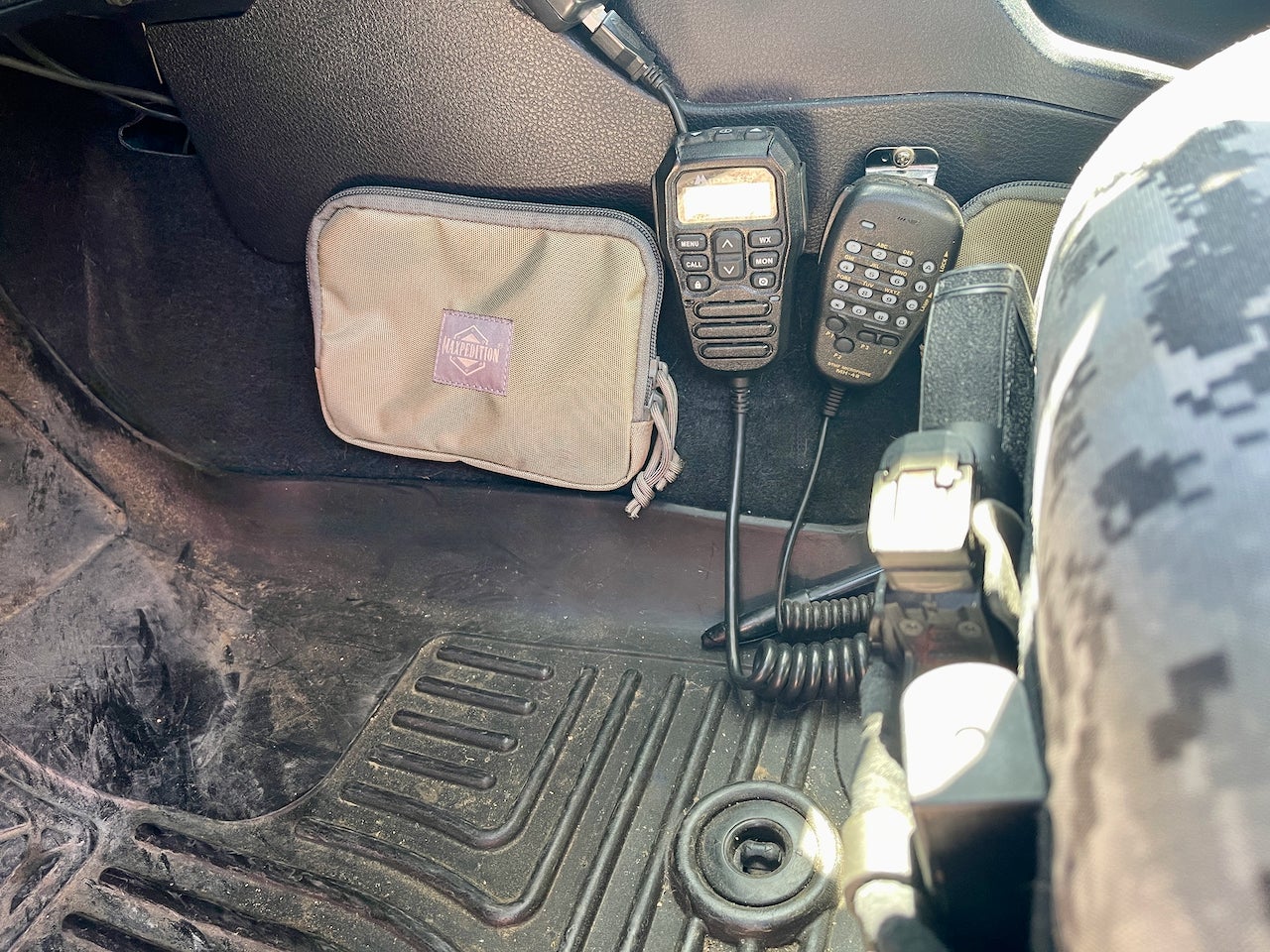 Near my right leg are a couple of pouches that hold a window break took, and a couple of seat belt clips (these are useful for times in which you need to silence your seat belt warning. I also have both of the handsets for my HAM radio and Midland Micro Mobile MXT275 (which gets way more use than my HAM) mounted in easy reach.
Console
Just above the forward drink holders, I have my National Luna Dual Battery monitor, head unit for my Yaesu FTM-400DR/XDR, and gauge/controller for my Firestone airbags.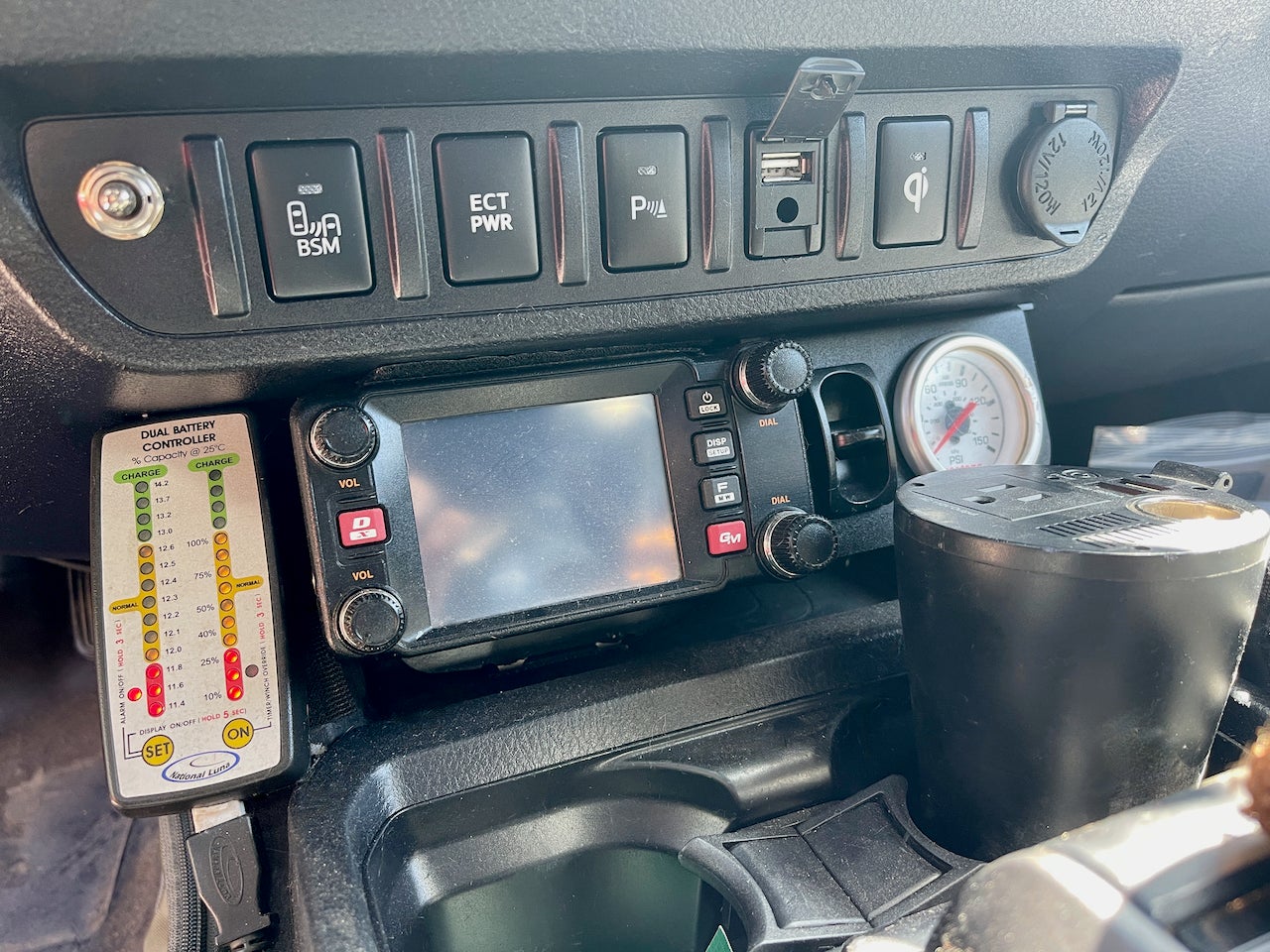 I replaced my factory stereo head unit with an Alpine iLX-F509 because I wanted Apple CarPlay and Android Auto capability (something the 2017 Toyota Tacoma did not come with). My biggest issue with this is that it sticks out quite a bit. I'm always noodling on going with something flush mount. Aside from that, it works great, though I don't have access to a lot of the built-in settings management of the Tacoma.
On the dash, I added Tacoma Beast's TPAM to allow me to center mount accessories in a handy location. This is where I keep such expedition essentials as my phone and Inreach. It is powered with two high amp USB ports and accommodates RAM patterned mounts on the base plate. No more RAM suction mount for me…
Navigation
I've gone back and forth over mounting my primary navigation tablet on the TPAM and am currently considering back to the RAM seat mount. I think it overall is more secure, and I use a case that should protect it from theft (as much as possible anyway). Either way, I can run power from the TPAM. One benefit of a dedicated tablet is that I can do trip planning on my laptop at leisure and it will sync with the device in the cab. It makes it much more convenient. I'll do a longer post on this later (how I plan for trips and the tools I use).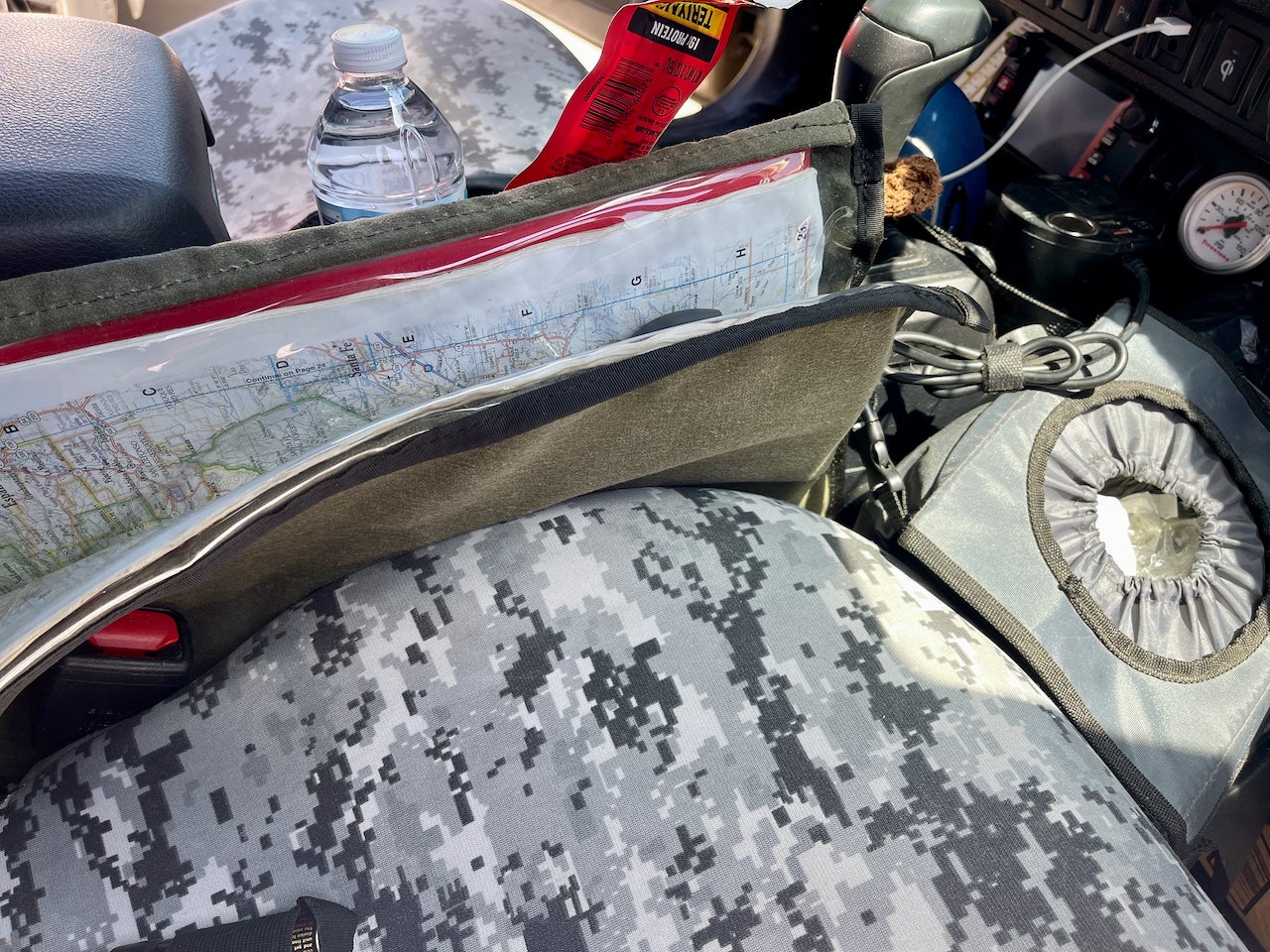 I also keep a set of paper maps wedged next to the passenger seat. I'd only use these while stopped (or have another occupant navigate).
General cab
I replaced the map lights with bright LEDs because the stock Toyota ones are just garbage.
A fire extinguisher is kept on a Grayman Tactical seatback panel as it provides rigid support for such things. I can reach this from the driver's seat if needed. Same with a medical kit.
Miscellaneous
Between the seats, I have an elastic mesh organizer that is an easy place to stash a set of leather work gloves and microfiber cloths (an important use is cleaning off that weird oily film that gets on the inside of the window and you can only see when the sun hits just right). It is a unique type of storage that I've found to be way more useful than I thought it would be
How are you set up?
Everyone is set up a little bit differently because not everyone does the same things in the same way. One of the things I appreciate is seeing different configurations. Cookie-cutter builds are okay, but anyone that actually uses their vehicle will eventually set it up the way that is most efficient for them.
If you have a setup you would like to share, do so in the comments.
Off-Road and Overlanding is sponsored by
To subscribe, visit: https://subscribe.onxmaps.com/offroad/purchase/membership
The post Overlanding Vehicle Management: Your Vehicle Cockpit appeared first on AllOutdoor.com.