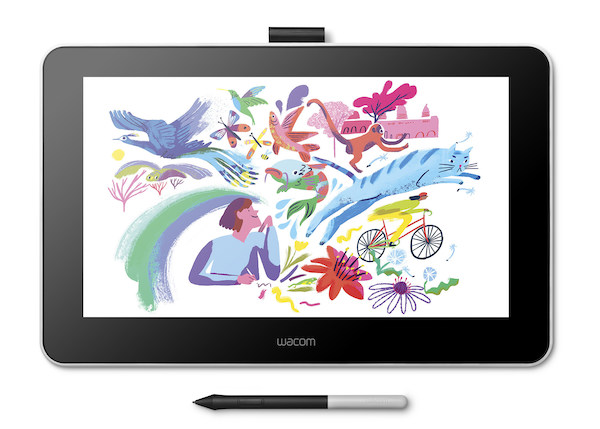 Image via Wacom
Wacoms tablets dont come cheap. Its popular Cintiq Pro 13, for instance, is priced at US$799.95. Thankfully for casual artists, it has just introduced the more affordable Wacom One display with a price tag of just US$399.
The 13-inch tablet features a 1920 x 1080 full HD display with anti-glare treated film. While it only offers 72-percent of the NTSC color gamut and a slower 26ms response time, Wacom didnt skimp on the accompanying battery-free, EMR (Electro Magnetic Resonance) pressure-sensitive pen that delivers accurate and precise pen and brush strokes without the need of a battery or charging.
The powerful stylus promises the ability to sketch with up to 4,096 pressure levels and at a tilt of up to 60 degrees.
The Wacom Ones compact design supports use in virtually any workspace, and arrives with an adjustable stand so you can set the device up wherever you may be.
To help beginning artists pursue their interests, a purchase of the tablet comes with a software bundle including a six-month free subscription of Celsys Clip Studio Paint Pro, Wacoms note-taking and sketching app Bamboo Paper, and a drawing software for comic and manga creation.
The device is compatible with Macs, Windows PCs and select Android devicesSamsungs Galaxy S8 and newer, and Huaweis P20 Pro and newerand will roll out this month via its
eStore
,
Amazon
, participating Best Buy locations and various authorized partners.
[via
Wacom
]