Click here to read A Lovely Week of Valentine's Day Activities for Kids on Hands On As We Grow®
---
Enjoy lovely Valentine's Day activities with the kids for a fun week full of love!
I don't usually go overboard with holidays (at least not too much). When it comes to blogging about our activities, its usually better if I start blogging about holiday activities 6+ weeks before the holiday.
And that just is too hard for me.
Even for Christmas, that's hard!
So this week, I'm going to make it a lovely week with the kids to celebrate Valentine's Day!
I planned a week of Valentine's Day crafts and activities to do, and thought you might enjoy them too.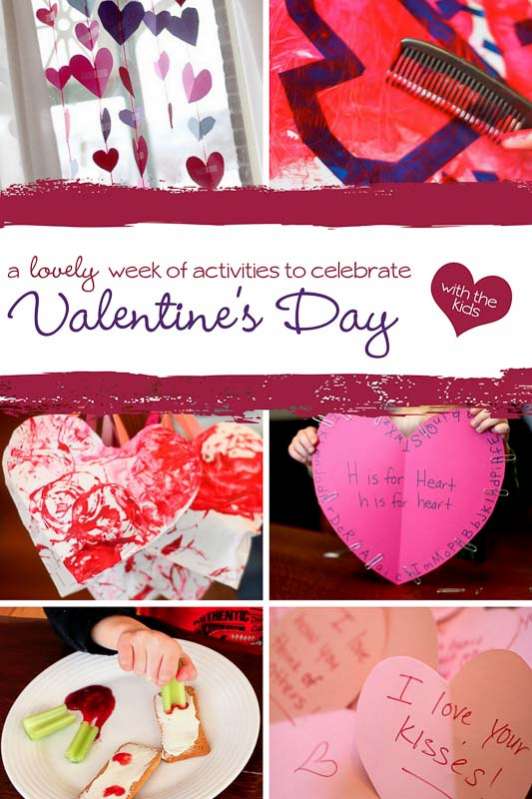 Here's this week's activities for Valentine's Day:

Monday: Heart Garlands
Cut many hearts from red, purple, blue papers. Cut several long pieces of string to tape hearts onto. Hang in a window as garlands.
Supplies needed:
paper
scissors
tape
string, yarn or ribbon
Find details: Heart Garland for Valentine's Day

Tuesday: Texture Heart Painting
Tape a heart on paper, then use unusual objects to paint! Make textures with combs, roll on the paint with a rolling pin! Remove the tape when dry.
Supplies needed:
painter's tape
paper
paint
comb or fork
rolling pin
Find details: Valentine Art for Toddlers: Scratch, Roll, Resist

Wednesday: Valentine Sensory Foam
Make sensory foam with dish soap and a little bit of water and red, pink or purple food coloring in a food processor. Put on a tray to explore!
Supplies needed:
water
dish soap
food coloring
food processor or blender
tray
Find details: Soapy Sensory Foam Activity

Thursday: Stuffed Heart Valentines for Friends
Make Valentines for friends. Decorate paper to your desire. Cut a set of hearts out of the decorated paper and another set of hearts from plain paper. On the plain paper write 'to:' and 'from:' for Valentines. Staple hearts together half way. Fill with desired 'Valentine' (candy, play dough, or other surprises!) and staple heart closed, include a ribbon at the top for a handle.
Supplies needed:
paper
paint
stapler
Valentine gift
ribbon
Find details: Stuffed Heart Valentines

Friday: H is for Heart
Cut a heart out of pink or red paper. Write in the middle "H is for Heart". Write various letters around the edge of the object (with many of them being H or h). Find the letter that the object starts with and clip each with a paper clip.
Supplies needed:
red or pink cardstock
scissors
marker
paper clips or clothespins
Find details: Find the Letter on the Heart

Saturday: Healthy Heart Snack
Make a heart snack by spreading cream cheese on crackers. Dip end of celery in jam and stamp onto cream cheese to make hearts. Eat up!
Supplies needed:
crackers
cream cheese
celery stick
jam or jelly
Find details: Kid-Made Valentine Snacks for the Classroom

Sunday: 'I Love You' Scavenger Hunt
Go on an 'I Love You' scavenger hunt. Hide hearts (or just hide one a day) with words of how you love your child written on each heart.
Supplies needed:
Find details: Valentine's Scavenger Hunt to Find the Ways I Love You
More Valentine's Day activities and crafts can be found here: