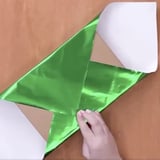 Please excuse me for a moment, dear reader; I need to pick up the remains of my hypothetically exploded brain. Why, you ask? Because I just learned a glorious gift-wrapping hack that has blown my mind and made me question my existence and intelligence.
UK-based bookseller Waterstones is going viral on Twitter for sharing a video that demonstrates how to wrap a rectangular holiday gift after cutting a piece of paper that's too small to cover it horizontally or vertically. In the seven-second clip originally created by Blossom Hacks, a mysterious pair of hands simply rotates the gift diagonally, and voila - the same piece of paper magically wraps around the entire gift, leaving no surface exposed. Somewhere back in Florida, my high school geometry teacher is weeping and shaking her fist in the air at me for not taking her lessons to heart.
It looks like I'm not the only one out there whose eyes have just been opened to this genius trick. The video has been viewed nearly 14 million times and flooded with hundreds of comments, ranging from "Where the hell have I been?" to "What kind of sorcery is this?" Although a handful of Twitter users chimed in to comment on how the metallic paper used in the video isn't recyclable and therefore should be avoided for Mother Earth's sake - a valid point, I must say - the method is nevertheless a game changer and can be used with eco-friendly wrapping paper as well.